"I remember I did the whole application, wondering, 'Am I ever going to be on this ship? Is it actually real?'" remembers Lukas, a vehicle mechanic from Switzerland. "Then, one day, you stand on the gangway, and you can't believe that you are really there."
When Lukas first heard about Mercy Ships, he wasn't yet sure it was his calling. It was 2017, and he listened to a couple speak in church about their experience volunteering onboard the Africa Mercy®. After the church service, Lukas started an application to volunteer as a vehicle mechanic. In fact, he started applying several times — but he never finished.
"It wasn't until I got an email that said 'Please can you come to the ship? We really need a mechanic, and we don't have anyone,' that I felt I was really being called here."
As soon as Lukas came onboard, the sense of calling became clearer. The previous vehicle mechanic was waiting to get married until he found a replacement, not wanting to leave his post vacant. Lukas was an answer to prayer. "It was fantastic, to realize really that God planned it all in advance," shared Lukas.
Life on board
Now, he has called the Africa Mercy® home for a year. His job, he says, involves anything that moves. He's got his work cut out for him, maintaining vehicles beaten by the salty sea winds, fixing generators, and handling transportation logistics for the entire crew.
For a floating hospital ship, the Africa Mercy® has an immense need for well-functioning vehicles. Without hardy land transport, Mercy Ships couldn't fulfil its mission. Many patients depend on the organization for on-ground transport, and many programs, clinics, and medical screenings take place miles away. "Every day I feel like I am doing something important, that I am making a difference," said Lukas.
This year, Lukas and the other crew worked on faith, unable to directly see the impact their dedication would eventually have on patients. Because of COVID-19, the Africa Mercy® spent the year in shipyard undergoing maintenance and repairs.
"Even now, patients are waiting," said Lukas. "And it's important the ship gets back [to Senegal] as soon as it can." In the meantime, however, a year of change has created plenty of opportunities for personal growth.
The crew work hard, but they do it all together. As a community, there's always time for fun memories as well as spiritual development. Whether they're growing their professional skills or sharing their personal passions, the friendships and experiences onboard are one of a kind.
"It was amazing," shared Lukas. "Now more than ever, God is the anchor in my life. I'm so grateful for the time on the Africa Mercy®."
The Mercy Ships community onboard our hospital ships is like none other. Our volunteer crew bring their unique skills and vibrant life experiences from around the world to serve the people who need it most. It's about so much more than a professional title. It's about bringing all that you are – both in and out of the workplace. Whether you're a physician who leads workout classes, an accountant who is the karaoke queen, or a teacher who also competes in an acapella troupe, Mercy Ships needs all of you.
Ready to make your mark? There's a place for you onboard!
Do you have any questions?
Jessica and Janina
Recruitment Team - Switzerland
Jessica (French / English):
+41 21 654 32 70
Janina (German / English):
+41 31 812 40 34
Discover other stories from our volunteers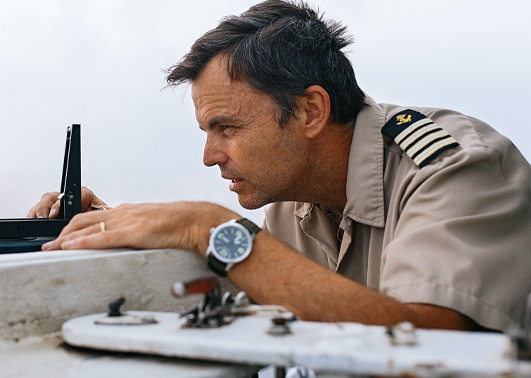 "We provide for people who have lost hope in a very direct and purposeful way, so it just works!"
READ MORE