A charity created in Switzerland, with an international scope
Founded in 1978, Mercy Ships is a global charity based on Christian values. The humanitarian aid organization is dedicated to increasing access to healthcare in developing nations.
Through the deployment of the world's two largest civilian hospital ships, the Africa Mercy and the Global Mercy¸ Mercy Ships offers holistic support to developing nations striving to make healthcare accessible for all.
Over 40 years of experience
In 1978, living in Lausanne, Don and Deyon Stephens began an adventure that led to the founding of a charity, Mercy Ships: the couple dreamed of a hospital ship that would reach out to the world's poorest.
The Anastasis, 30 years of service
This dream came true on July 7, 1978: With a loan from a Swiss bank, Mercy Ships purchased its first ship, the former ocean liner M/V Victoria. After four years of continuous effort, the ship was converted into a hospital ship and renamed Anastasis.
The Africa Mercy, dedicated to Africa
In 2007, Mercy Ships launches the Africa Mercy, the largest hospital ship operated by our organization in its history.
More than 100'000 surgical procedures
In May 2019, a new milestone is reached for the charity: the 100,000th free surgical operation on board one of the organization's hospital ships, which is then in Guinea. One more operation that transforms the life of a young patient.
On 16 May, little Aissata underwent surgery on board the hospital ship Africa Mercy. She was 7 months old and was born with a cleft lip and cleft palate. Thanks to the intervention of a whole volunteer crew, including skilled surgeons, her lip and palate were closed and treated.
A future-oriented response
Our charity aims to increase its work with partner nations in Africa to help meet this challenge. To this end, Mercy Ships has launched a new hospital ship in 2022, the Global Mercy!
The Global Mercy™ delivers a safe and clean environment to various African nations, providing help and resources from some of the most well-trained physicians in the world. Over the vessel's 50 year expected lifespan, it is estimated that more than 150,000 lives will be changed on board through surgery alone.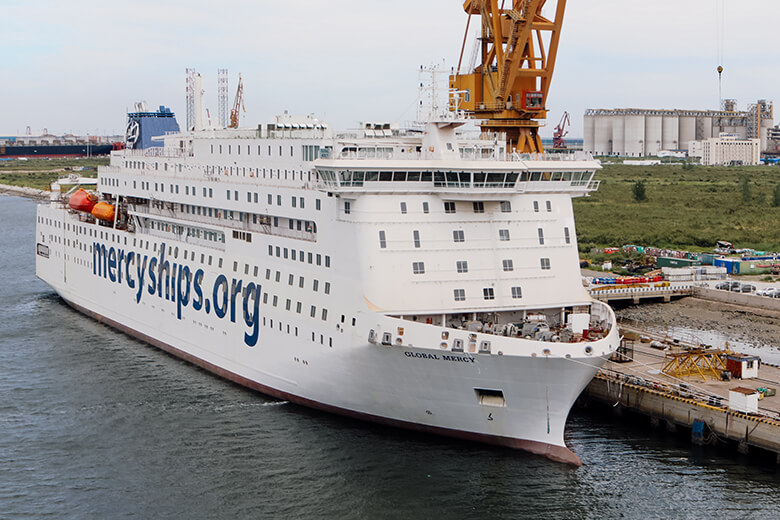 History of the charity Mercy Ships
Support our charity and surgical care in Africa !
Since 1990, Mercy Ships has focused most of its efforts towards the African continent.
"From the very beginning, I was excited by the almost far-fetched dream of my friends Don and Deyon that Mercy Ships would grow from an old, disused ocean liner into the organization it is today. I continue to be moved by the commitment of all those who serve by giving their time, money and energy!"
Françoise André - Boardmember of Mercy Ships Switzerland and Vice President of the Mercy Ships International Executive Committee