The Global Mercy, our custom-made hospital ship
With more than 50 years of service ahead of her, this new ship will empower a whole new generation to get involved with us! The addition of the Global Mercy to our fleet, the first hospital ship built specifically for the needs of our humanitarian work, allows us to double our impact on the continent and to carry out a mission in two different countries simultaneously.
Mercy Ships has inaugurated the Global Mercy™, the world's largest civilian hospital ship
More than 16 million people die each year for lack of surgical care. That's why Mercy Ships has developped a forward-looking response.
Since the launch of the Africa Mercy in 2007, Mercy Ships has planned for another ship of equal or greater capacity to be added to the fleet. Drawing upon over 43 years of organisational experience, and over five years of specific study on the outcomes of the Africa Mercy in serving the people of West and Central Africa, the Mercy Ships International Board approved the signing of a contract for the construction of a purpose-built hospital ship.
Now that it's complete, this new ship has more than doubled the ability of Mercy Ships to deliver hope and healing, while significantly increasing capacity-building and training potential.
The Global Mercy is capable of serving anywhere in the world and will initially expand the activity of Mercy Ships on the African continent.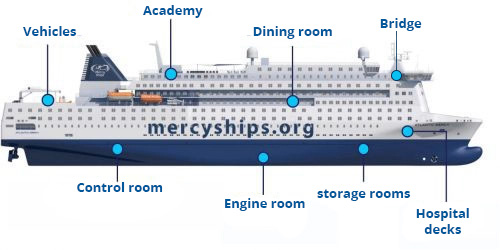 Watch video: the inauguration of the Global Mercy in Dakar
The hospital covers most of decks 3 and 4 – approximately 7,000 square metres containing supply services, 6 operating theatres, 102 acute care beds, 7 ICU/isolation beds and an additional 90 self-care beds. The hospital area includes dedicated classroom/conference spaces as well as simulator labs for more effective training.
All pre-operative and postoperative work can be done on board rather than ashore, which minimizes the Mercy Ships footprint when operating in busy ports. The new ship will more than double our annual medical capacity and is designed to carry out a wide range of surgeries including, but not limited to, maxillofacial and reconstructive surgery, tumour removal, cleft lip and palate repair, plastics, orthopaedic surgery, cataract removal, and obstetric fistula repair.



6 operating theatres in surgical unit
Pre- and post-operative care
Radiology
with X-Ray and CT scan
Screening/Admissions
Rehab
Outpatient care
Training spaces for local professionals
Simulation lab with virtual and augmented reality
Simulated Post op Care Space
Mannequins & Other Training Tools
Your gift gives new life to our beneficiaries.
The ship - Almost like a village
The 174-meter, 37,000-ton ship will have six operating rooms and house over 600 volunteers from around the globe representing many disciplines including surgeons, maritime crew, cooks, teachers, electricians, the host staff and more.
The ship will also feature a 682-seat auditorium, student academy, gymnasium, pool, café, shop and library – all of which have been designed to accommodate up to 950 crew onboard when docked in port.
| | | | |
| --- | --- | --- | --- |
| Auditorium | 682 seats | Gymnasium |   |
| Academy |   | Cafe and ship shop |   |
| Small pool |   | Library |   |
Questions about volunteering?
If you have any questions about volunteering, contact Jessica Morey.
Don't forget to check out our FAQ section on the "Become a Volunteer" page which will answer most of your questions.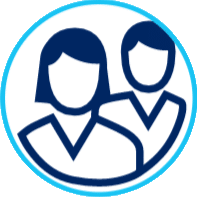 When in port, the ship can accommodate up to 950 people.
Capacity to host 641 crew members
Filtering & treating AC condensate water for technical use will reduce potable water use by approximately 50%
Ship systems provide reliable and efficient power, clean water, and air conditioning for the hospital and crew.
Filtering & treating AC condensate water for technical use will reduce potable water use by approximately 50%
Ship Specifications of the Global Mercy
 Main Engines
4 x Warsila 6L32
with 2 x ABB Azipods
Project management
Stena RoRo – Gothenburg, Sweden
Construction design
Deltamarin – Turku, Finland
Built by
Xingang Shipyard (CSSC) – Tijanjin, China
Surveyed by
Lloyd's Register – UK
Brokerage
BRS – Geneva, Switzerland
he simulation lab will allow trainers to simulate local conditions & limitations in order to teach best practices in low-resource environments.
Training opportunities include:
Post-op scenario training for nursing teams
Surgical technical teams basic skills training
Basic surgical skills training to prepare trainees for live surgical experience
Live surgical mentoring in selected high demand, elective procedures