You're boarding the Africa Mercy and the Global Mercy, two of the largest civilian hospital ships in the world, for a volunteer experience abroad. Destination: the continent of Africa. On board are dozens of volunteers who, like you, are volunteering abroad, giving their time to help Africa's most needy people.If this call to adventure speaks to you, if you'd like to put your skills at the disposal of a humanitarian project that makes sense, then we undoubtedly have a place for you within the crew.
Volunteering abroad, an incredible adventure
Every year, more than 2,000 volunteers from some 60 nations walk the gangways and decks of our hospital ships, the Africa Mercy and Global Mercy. Their mission: to help African populations in need of medical care.
In order to help these people in difficult situations, we offer volunteer places, particularly in the medical field: surgeons, dental assistants, nurses, laboratory technicians, doctors, radiologists…
But not only that! A good proportion of our jobs are not directly related to medical care. Quite simply because, in order to keep the many teams of volunteers alive and to manage the care in the best way possible, we also need cooks, electricians, receptionists, plumbers, engineers, teachers, computer specialists, accountants, photographers, and many other talents!
Volunteer places for everyone
The strength of our volunteer teams lies in the way they complement one another. It is a melting pot of genders, ages, nationalities, abilities and expertise. This mix is an opportunity to meet people who come from the other side of the world. To talk to people with unusual backgrounds and profiles. And to have unforgettable experiences.
Students, workers, retirees: discover the available places and the conditions of application to join the crew of the Africa Mercy and Global Mercy hospital ships and experience an extraordinary adventure, volunteering abroad!
Everything you need to know to volunteer with us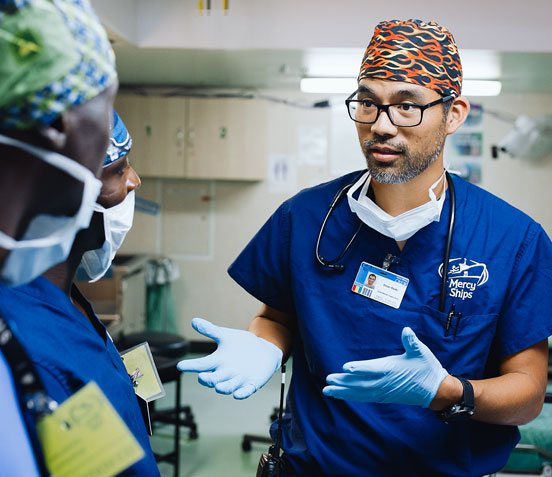 Find out about the conditions to serve, along with general information about becoming a volunteer with answers to most common questions.
General info & FAQ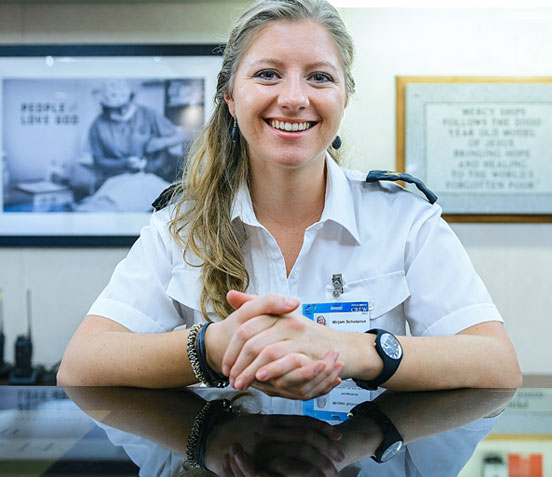 Everything you need to know before applying.
You've decided to take the leap but you're not quite sure how or where to start?
How to apply
"Volunteering abroad with Mercy Ships will not only change the lives of those you serve, it will change you. You will experience different cultures, different environments and simply be amazed by it all. We can only encourage you to take this next step. Enjoy the journey!"
Jessica and Janina
Recruitment Team - Switzerland
Jessica (French / English):
+41 21 654 32 70
Janina (German / English):
+41 31 812 40 34