In charge of finding new volunteers for the Africa Mercy and Global Mercy in German-speaking Switzerland, Janina Tobler took the opportunity to join our volunteers in Senegal for three weeks and thus get her fill of new, enriching experiences.
Janina, tell us a little about your journey with Mercy Ships.
I heard about Mercy Ships in 2011 and since then the dream of volunteering never left me! This came to fruition in 2017: I served for four months, in Benin, as a Dental Assistant. In May 2018, I was hired to join Mercy Ships Switzerland in its Belp office, to support my colleague from the Lausanne office in recruiting new volunteers.
What did you do in Senegal?
I worked as a Dental Assistant again, but this time for the crew. In those three weeks, there were 168 appointments; and we performed routine exams, filled cavities, extracted a few teeth and even did a root canal procedure. So our crew is not spared from dental problems!
Do you also offer dental care to the population?
Yes of course. We set up a clinic (see photo) where the needs were greatest, 1-2 hours away from Dakar. People come for free treatment and walk away with reduced pain … and a smile as well!
What do you like most on board?
On my first mission, the ship became like a second home, so it was a pleasure to be back "at home". But one thing that I particularly appreciated was being accommodated in the only 10-bed cabin that we have on board! You get to know a lot of people from all over the world in no time, and I really like that!
What are the basic requirements for volunteering?
I like to underline that we really do have jobs for everyone, for almost all ages, and also for those who have no training. However, you must be at least 18 years old, have a good knowledge of English, and agree to cover the costs of your plane ticket and your stay on board – ideally by creating a support group of friends and family.
What are the most critical positions?
We sometimes have difficulty filling some technical positions. We struggle, for example, to find electricians, plumbers, carpenters and other manual tradespeople. And, currently, we need a French teacher for the on-board school.
What do you consider is the most unusual position?
For me, this is clearly the post of hairdresser! Of course, this facility is not there for our patients, but for the crew. We want to take care of them… including in the realm of hair!
Do you have any recommendations for those who are still hesitating?
Come to one of our information evenings or contact us; and once you've made your decision, apply as soon as possible, even if you don't have exact dates yet. We look forward to welcoming you on board!
Sénégal: Janina served here
SHARE THE STORY OF JANINA
Do you have any questions?
Jessica and Janina
Recruitment Team - Switzerland
Jessica (French / English):
+41 21 654 32 70
Janina (German / English):
+41 31 812 40 34
Discover other stories from our volunteers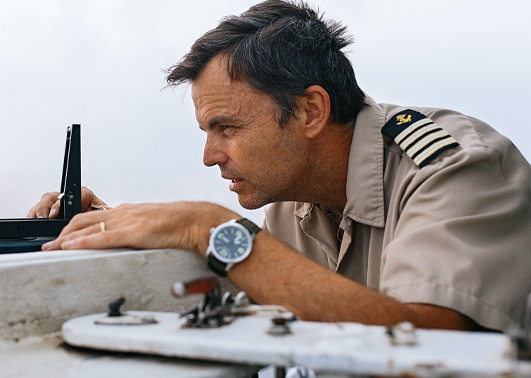 "We provide for people who have lost hope in a very direct and purposeful way, so it just works!"
READ MORE