After a first experience in 2018, Larissa did not want to stop there. Having become a nurse in the meantime, she hoped to return to the Africa Mercy as soon as possible. Finally, in September 2020, the opportunity presented itself… but in a completely different context because of Covid-19! Newly back on solid ground, Larissa shares her impressions of this second mission with us, certainly very different from the first one!
Larissa, why did you want to come back on board and what was your role?
After my first stay in Guinea, I learned to be thankful for the little things in life and realised how rewarding it can be to work with people from all over the world.
This time, with Covid and the lack of volunteers, we had to be very flexible. I worked as a kitchen helper – we were two teams of four people, providing for 120-150 people – and also as a nurse for the crew. On my days off, I helped out at the reception desk or the café.
How was this second stay different?
Like everywhere else in the world, Covid-19 changed many things on the ship, and I knew it would be very different. In comparison to a mission in Africa, there's only a quarter of the crew on board, and you're very connected to the ship.
Moreover, shore leave is strictly regulated by the local authorities with regard to where we are allowed to go, the times of day and the measures we have to observe. As a result, since the crew is on board most of the time, we get to know each other better and it feels like living in a big family. It was a very cheerful and pleasant atmosphere.
What are the measures on board and how is the Africa Mercy preparing for her return to Africa?
Each new volunteer has to spend 14 days in quarantine and is only allowed to get some fresh air on the upper deck for one hour in the morning and one hour in the evening. Meals and anything else you need are placed in front of your cabin door. It's a real challenge for everyone, but I ended up enjoying the time I had to myself.
After that, you move to a cabin shared by a maximum of two people, instead of three, four or six. In addition, the wearing of masks on board is very strict, and social distancing must be observed as best as possible, which is not always easy on a ship where everything is cramped. And, should a volunteer feel unwell, they must stay in their cabin and be monitored by the onboard doctor and nurse.
As far as preparations are concerned, one area in the ship's hospital has been dedicated to isolating potential positive cases, and another to intensive care in connection with Covid. A lot of work is still in progress, in the cabins, canteen, hospital and the air-conditioning system, to prevent the virus from spreading and to provide the volunteers and future patients with the safest possible environment.
Personally, I am looking forward to going back for a third time! Working on board is a unique experience, with its ups and downs of course, but one that I recommend to everyone!
SHARE THE STORY OF LARISSA
Do you have any questions?
Jessica and Janina
Recruitment Team - Switzerland
Jessica (French / English):
+41 21 654 32 70
Janina (German / English):
+41 31 812 40 34
Discover other stories from our volunteers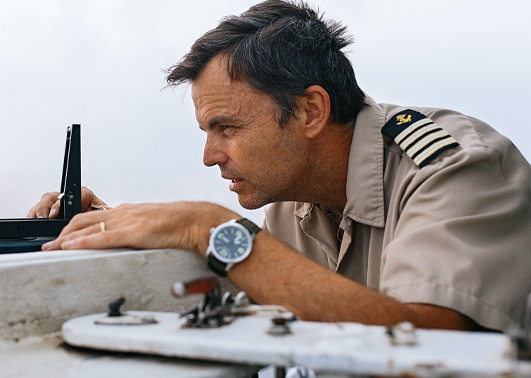 "We provide for people who have lost hope in a very direct and purposeful way, so it just works!"
READ MORE