The world's largest purpose-built civilian hospital ship, the Global Mercy®, is projected to serve 150,000 patients over the next five decades – and it all begins with Amadou, a 4-year-old with a windswept leg and bowed leg from southern Senegal. With an orthopaedic surgery on March 6, Amadou was the first patient to ever receive surgery on board the new ship.
"He started walking, and we noticed that he had problems," Amadou's caregiver, Mariatou, explained. His condition became apparent to Mariatou as Amadou interacted more with his peers, especially during mealtimes.
"They can just go by themselves and eat without having something to sit on, but for him, it's not the case," Mariatou continued. Because Amadou's condition caused uneven weight distribution, the simple act of sitting was painful. The early surgical intervention helped repair his condition before his development was severely impacted.
"For Amadou and his family, it will be life-changing because they will see his leg will be straight. They may never know the full implication . . . if we left him and did nothing, his deformity is likely to get worse, so they may never know how bad it could have got, had we not intervened," said Dr. Rachel Buckingham, the orthopaedic surgeon who performed Amadou's operation.
"Senegal does not have any children's orthopaedic surgeons, which means that to try and have this surgery, patients would have to travel to another country, which obviously is prohibitively expensive for most people, so most of these patients would never have the opportunity to have surgery," Dr. Buckingham added.
Amadou's is the first of over 40 planned paediatric orthopaedic operations this month. Over the next four months, the Global Mercy will provide over 800 safe, free surgeries.
"A hospital came to life, and that's incredible," said ward administrative assistant Melody Nido. The Swiss volunteer originally joined the Africa Mercy during the pandemic, then served on board the Global Mercy throughout the vessel's equipping. Almost all her work so far has been outside the hospital, which was not yet ready to operate. "I have been waiting for this field service," she explained before beaming, "I am beyond excited!"
For Melody, the Global Mercy is the culmination of three years of service with the organisation. For Amadou, the Global Mercy marks the end of a 400-mile journey that took him and Mariatou from hospital to hospital across Senegal – and the beginning of a new chapter of his life.
 This field service marks the first time that a Mercy Ship will serve two nations from one port, as up to 25 percent of the patients will come across the border from the neighbouring country of The Gambia.
During this historic field service, Mercy Ships will welcome over 600 participants for courses designed to strengthen national surgical care systems. Meanwhile, the floating hospital will focus on bringing hope and healing through eye, general, maxillofacial, orthopaedic, paediatric, and reconstructive-plastic surgeries.
The implications of each surgery are life-changing – often in simple yet profound ways.
SHARE THE STORY OF KHOUDIA
Discover more patient stories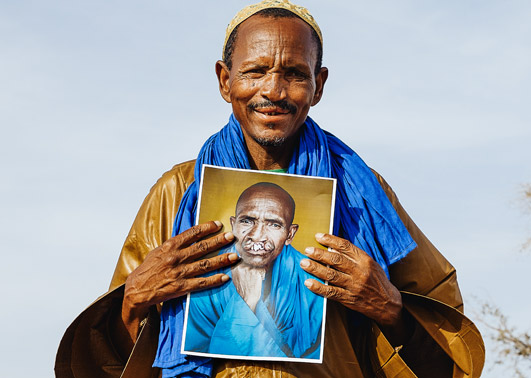 After enduring 56 years of hardship and exclusion, a mere two hours proved transformative, radically reshaping Samba's life and bestowing upon him a newfound sense of dignity.
Read the story
Two surgeries​ for Astou Meet Astou. Her life has had shadows of pain. When she was 20 years old, she lost her son during childbirth, but that wasn't the only tragedy that occurred. In addition
Read the story
What started as a small lump eventually developed into a massive growth filling his mouth, making eating and talking difficult.
Read the story
Help transform the life of our patients today.