UN Development Index
Rank: 163 out of 189
Physicians per million inhabitants
6 (in Switzerland: 4'200)
The Africa Mercy departed from Cotonou, in Benin, on June 3rd, 2017, after a ten-month stay in the port city.
While docked in Benin, the volunteer crew onboard completed 1'957 surgeries, transforming the lives of 1'793 patients and their families.
As well as delivering direct medical interventions on the ground in Benin, Mercy Ships worked hard to equip local medical staff with the knowledge and facilities needed to continue Mercy Ships work after the ship left Cotonou. The Mercy Ships capacity building team trained and mentored 1'962 local health professionals in a variety of specialities.
The following trainings and courses have been offered to Senegalese health professionals:
• Essential pain management
• Essential surgical skills
• Primary Trauma Care
• Pediatric and obstetric anesthesia
• Neonatal resuscitation
• WHO Safe surgical checklist
• Anesthesia training
The people of Benin welcome the Africa Mercy with music.
Hundreds of people are waiting to be examined by Mercy Ships volunteers.
The first surgeries begin on board the ship and will continue during the 10 months of service in Benin.
Opening of the HOPE Center (Hospital Out-Patient Extension). Patients can recover here after an operation.
Beginning of the Food for Life agricultural training in Benin.
There's a celebration atmosphere onboard the Africa Mercy!
Mirjam, a Swiss volunteer nurse, changes Jean's dressings.
Over the past few days, ophthalmological operations have been carried out for children. Born with a cataract, they will soon see!
Mentoring has also been offered for the following professions:
• Surgeons in multiple specialities
• OR nurses
• Maxilofacial OR teams
• Anesthesia providers
• Clubfoot care with Ponseti method
Two facilities – at the Centre de Sante de Zogbo and the Centre de Sante de Missessin – were renovated, to function as the Mercy Ships dental clinic and HOPE Centre. After the field service, these renovated facilities were returned to the local health suppliers.
This is the breakdown for Benin:
0
Maxillofacial surgeries
0
Reconstructive plastic surgeries

0
Women's health surgeries
On top of this, 6'942 patients were treated by the Mercy Ships dental experts, who delivered a total of 16'489 procedures.
Some moving stories from our surgical patients​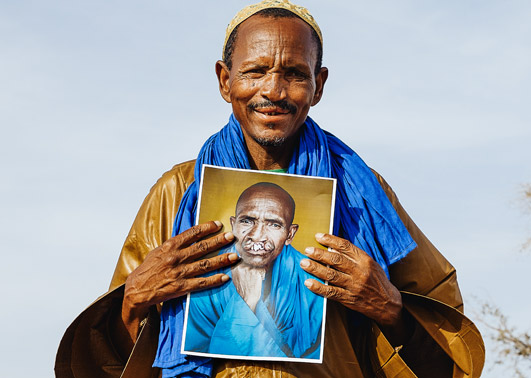 After enduring 56 years of hardship and exclusion, a mere two hours proved transformative, radically reshaping Samba's life and bestowing upon him a newfound sense of dignity.
LIRE PLUS
Two surgeries​ for Astou Meet Astou. Her life has had shadows of pain. When she was 20 years old, she lost her son during childbirth, but that wasn't the only tragedy that occurred. In addition
LIRE PLUS
What started as a small lump eventually developed into a massive growth filling his mouth, making eating and talking difficult.
LIRE PLUS
Your gift transforms lives in Africa.