When she was a child, Marie Madeleine developed an abnormally tight muscle contracture in her leg. As she continued to grow, her knee hyperextended backward, leaving her with a severe limp when she walked. Despite this difficulty, Marie Madeleine continued making the short journey to school, where she was determined to learn.
Marie Madeleine loves school. She believes with a good education, she will be able to accomplish her dreams, and she refuses to let her condition slow her down.
"Marie Madeleine is a very joyful girl. She has many friends," said Adama, Marie Madeleine's grandmother.
While the 13-year-old's condition has caused her to struggle to keep up physically, her family has worked hard to make sure that she has spent her life surrounded by love and acceptance. The young girl does not recall ever being demeaned because of her disability, and this has resulted in a confidence that is clearly seen in the way she interacts with others. Eventually though, Adama believed that her granddaughter's condition would have held her back from reaching her full potential.
"My hope is for her to be like every other girl with a backpack going to school," she said. "But we couldn't afford surgery, so we just waited for a miracle."
One day, that miracle arrived in the form of news from a neighbor in their village, who told them about the Africa Mercy arriving in the Port of Dakar, about 100 miles from their home. The neighbor gave Adama the information for the patient selection process, and soon Marie Madeleine had a surgery scheduled.
On the eve of her operation, Marie Madeleine talked about her "new life," envisioning all of the possibilities that lie ahead of her. After a successful surgery onboard the Africa Mercy, Marie Madeleine was ready to begin rehabilitation.
She worked with the rehab team for several hours a week to restore mobility and to improve her leg's strength. For 12 long years, her knee muscle had not been used properly, and it took time for her to retrain the muscles in her leg to hold her weight. But Marie Madeleine had the end in sight and, eager to get back to school, she persevered.
Several months after her arrival at the Africa Mercy, the bright 13-year-old girl with the triumphant smile and straight legs was ready to go home and back to school!
After Marie Madeleine's surgery, her grandmother's hopes have come true! "I am so happy to see her going to school with straight legs," says Adama. "Everything is okay now!"
With her determined spirit, Marie Madeleine has already succeeded. Her Mercy Ships journey may be finished, but she has the rest of her life ahead!
Share the story of Marie-Madeleine
SHARE THE STORY OF MARIE-MADELEINE
Discover more patient stories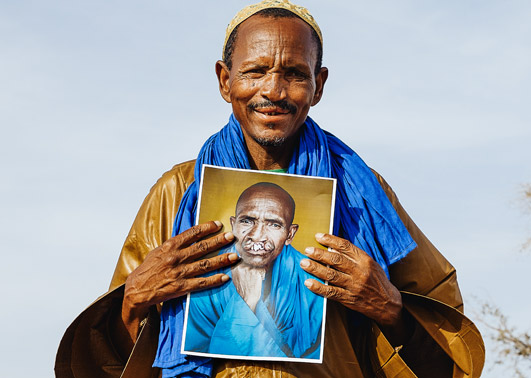 After enduring 56 years of hardship and exclusion, a mere two hours proved transformative, radically reshaping Samba's life and bestowing upon him a newfound sense of dignity.
Read the story
Two surgeries​ for Astou Meet Astou. Her life has had shadows of pain. When she was 20 years old, she lost her son during childbirth, but that wasn't the only tragedy that occurred. In addition
Read the story
What started as a small lump eventually developed into a massive growth filling his mouth, making eating and talking difficult.
Read the story
Help transform the life of our patients today.