When a person has spent years living with a medical condition that they are told is inoperable, it is easy to lose any expectation of healing. For Khoudia, after eight years with a growing facial tumor, a referral to Mercy Ships stirred a long-awaited glimmer of hope.
"I never thought that this tumor would be removed from my cheek," the 18-year-old said. "So when they told me they were going to do it, I said, OK,' but I never imagined that they would remove it all."
Growing up in the Kaolack region of central Senegal, Khoudia noticed her left cheek starting to swell when she was 10 years old. Her mother Atta was quick to take her to several hospitals in the hopes of treatment. "No, we cannot do the surgery" were words that they got used to hearing.
Impossible surgery in local hospitals
Years passed, but Khoudia's family persevered. When a hospital in the neighboring country of The Gambia approved Khoudia for surgery, her father dropped his work as a mason to help sell the entire harvest from Atta's peanut farm. Atta recounted, "Then they just did the surgery and told us, 'We cannot remove the tumor."
The parotid tumor was painless at the time, and Khoudia's childhood went on. But time spent with her peers left her feeling rejected.
"The only thing that my daughter told me all the time was, 'I want to keep studying,'" Atta said. "But when she used to go to school, her friends used to make fun of her, and she would come back crying."
As the oldest of seven siblings, Khoudia developed a special bond with her mother. She supported Atta in raising her four brothers and two sisters, and helped on the farm.
"My best friend is my mother," said Khoudia. "When I got sick, she helped me, she supported me, and she was with me the whole time. She helped me to do everything, and when she talked to me, she gave me hope."
By the time Khoudia was 16, the tumor had become immensely painful. She felt like her face was being pricked by needles. She explained, "I used to get pain till I could not see." Khoudia had to drop out of school and could no longer work seasonally as a maid.
Hope for surgery, hope for healing
During yet another unsuccessful hospital visit, Atta learned that the Africa Mercy was docked in Dakar. She began exploring Mercy Ships as an option. Although the vessel then sailed away in the wake of the pandemic, Atta established contacts who followed up with her two years later when the Africa Mercy hospital reopened.
The volunteer surgeons of Mercy Ships performed a left parotidectomy to remove the tumor. It was a life-changing maxillofacial operation that had been eight years in the making.
"After the surgery, when they took off the bandages, they gave me a mirror," Khoudia remembered. "I looked at myself and said, 'Wow!' I was so happy from then on."
Atta was by her side—and just as joyful. She echoed, "When they came and took off the bandages and I saw that, I was so happy because I never imagined that could be removed. I never thought I would see her cheek without the tumor in my life."
A month after her surgery, Khoudia was pain-free and her face had healed, so she was discharged from the hospital. She and Atta applauded the good news. Atta remarked, "I am just so happy. Now, I will return home with my beautiful daughter."
SHARE THE STORY OF KHOUDIA
Discover more patient stories​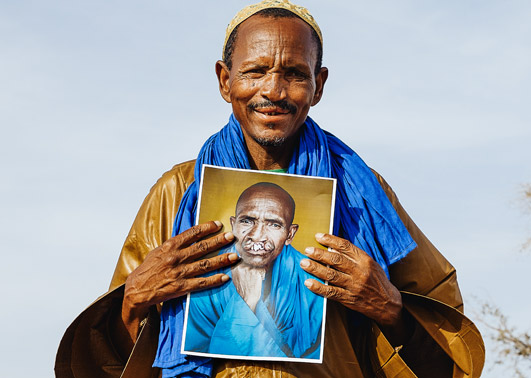 After enduring 56 years of hardship and exclusion, a mere two hours proved transformative, radically reshaping Samba's life and bestowing upon him a newfound sense of dignity.
Read more
Help transform the life of our patients today.