Their little girl, who is now 7 months old, is a lively and healthy baby, but a severe facial cleft strains her joyful smile. This facial cleft affects little Mariama's lip and her nose, making it difficult for her to eat and causes her parents to worry about their child's future.
Since pediatric services capable of treating baby Mariama's condition are not readily available in their small town, local doctors directed Mariama's father to Senegal's capital city in hopes that the specialized hospitals there would be able to help.
Unfortunately, once he was in Dakar, Mamadou began an uphill battle of navigating the different hospitals in search of healing for his little girl. Eventually, he heard about a hospital ship docked in the port of Dakar, which was full of volunteer medical professionals offering life-changing surgeries to those in need.
One week after signing up for the screening with Mercy Ships, Mamadou received a phone call announcing that his daughter had been chosen for surgery.
"I give thanks to God first, and I am very grateful to Mercy Ships," Mamadou said. "I'm happy. Thank you!"
After her surgery, Mariama and her family stayed at the HOPE center where her mother learned how to make nutritional baby formula and learned about the importance of nutrition for their child. Once she had recovered, Mariama was finally able to return home to her family, happy and healthy!
Share the story of Mariama
SHARE THE STORY OF  MARIAMA
"From the very beginning, I was excited by the almost far-fetched dream of my friends Don and Deyon that Mercy Ships would grow from an old, disused ocean liner into the organization it is today. I continue to be moved by the commitment of all those who serve by giving their time, money and energy!"
Françoise André - Boardmember of Mercy Ships Switzerland and Vice President of the Mercy Ships International Executive Committee
Discover more patient stories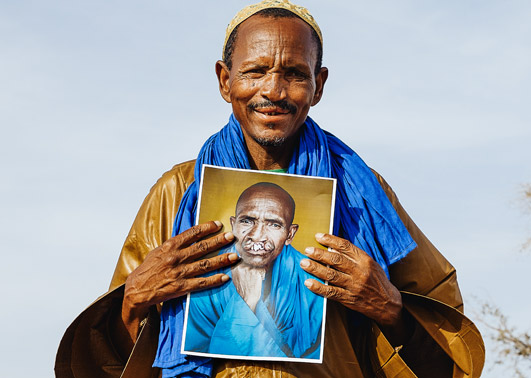 After enduring 56 years of hardship and exclusion, a mere two hours proved transformative, radically reshaping Samba's life and bestowing upon him a newfound sense of dignity.
Read the story
Two surgeries​ for Astou Meet Astou. Her life has had shadows of pain. When she was 20 years old, she lost her son during childbirth, but that wasn't the only tragedy that occurred. In addition
Read the story
What started as a small lump eventually developed into a massive growth filling his mouth, making eating and talking difficult.
Read the story
Help transform the life of our patients today.