Together to make a difference!
By partnering with Mercy Ships, your company can make a real difference to the lives of the world's poorest people. A partnership with us can also benefit your organization in a number of ways. You can gain access to new audiences, demonstrate corporate social responsibility and increase PR opportunities.
A partnership can be a point of differentiation from your competitors, and at the same time a way to motivate your staff to commit to a long-term and worthwhile good cause.
Our response to Global Surgical Need
Mercy Ships' lasting impact
Transparency, accountability, professionalism
Mercy Ships Switzerland is recognised in Switzerland as a charitable organisation and exempt from taxes. Moreover, donations are tax deductible in all parts of Switzerland, according to the law of each Canton and to the limits established.
Donations can be dedicated to a specific project in the field: we guarantee their exclusive use for this project.
Mercy Ships Switzerland cultivates mutual accountability relationships with its partner companies and foundations. Detailed proposals for projects to support, news during the mission, final reports, personalised contacts and even the possibility of visits on location ("Vision Trip").
Corporate social responsibility
There are a number of ways in which your company can partner with Mercy Ships.
Sponsoring one of Mercy Ships' many activities in Switzerland can improve your brand perception and corporate profile in local communities and promote a positive corporate image to your target audience. We have a number of sponsorship opportunities targeted at diverse audiences : co-branded promotional campaigns, events (charity auctions, exhibitions, sport events…)
We would be happy to tailor proposals to meet your business objectives.
Cause Related Marketing is when a business and charity form a partnership to market a product or service for mutual benefit. This can include trade promotions, on-pack promotions and in-store merchandising.
Engage your employees in a partnership with Mercy Ships: encourage them to serve on our ship, or give them the opportunity to volunteer and help us one day to support our actions in Switzerland.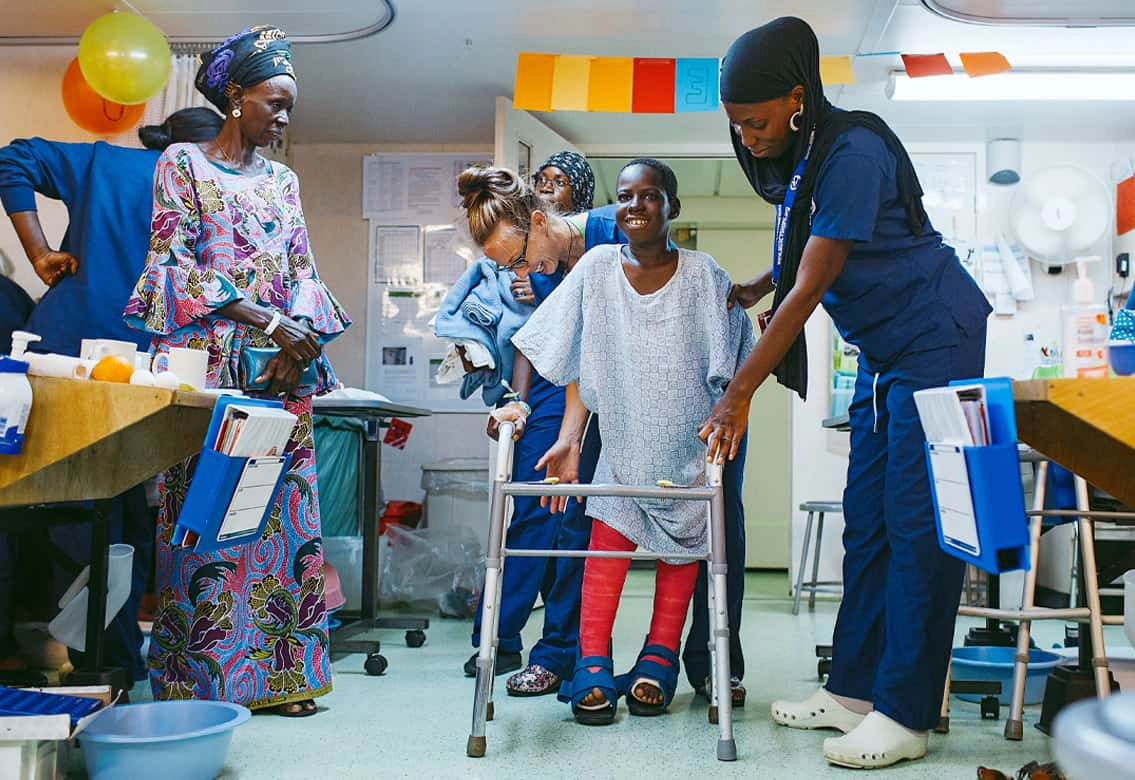 Sponsoring of our work in the field (for example with surgical and hospital equipment).
Corporate Christmas Cards
Co-branded Calendars
Charity of the year
Any other suggestions? Please contact us!
« J'ai visité l'Africa Mercy lors d'une visite parlementaire à Conakry. Mercy Ships représente la solidarité humaine par excellence et vient en aide à ceux qui en ont le plus besoin. En plus, cette solidarité ne connaît pas de frontières ! Mercy Ships reflète l'esprit d'entraide internationale propre à la Suisse et à ses institutions : j'ai une profonde admiration pour un tel engagement qui incarne pleinement les notions de dignité humaine et de charité. »
Dominique de Buman - Conseiller national Suisse, Président du Conseil national 2017/2018
"Mercy Ships Cargo Day", a successful partnership
Pour nous, le Dr Wodomé est un véritable héros de la santé… et un multiplicateur exponentiel de notre impact !